Programs
Email Us
Prospectus
Quick Links
Register Online

Second Semester


In this semester students gain a greater knowledge of the writer's process: writing and rewriting. The course takes students understanding of the screenwriter's role in the film industry to the next level. Students learn about the business of screenwriting- how to protect, pitch and market their work.

The main writing goal now is to complete the final draft of feature length project. Write a detail treatment for second screenplay adapted from a literary work, develop one complete proposal for a television programme with one script for pilot episode and complete story-line for 52 episodes,



First Feature Screenplay



In the third term, students continue to develop their feature length project.

The semester is designed to further student's knowledge of the intricacies of feature length screenwriting through topics as Re-writing, Adaptation and Television Drama. Each week, students are required to read a script prior to an in-class screening of same film. The teacher then critique the film as it is screened, offering minute observation on topics such as subplot development, visual storytelling, turning points, planting and pay-off, and character development.

By the first half of the second semester, students complete the initial draft of their first screenplay. Feedback and mentoring sessions give opportunities to discuss the draft with screenwriting tutor or mentor. Student's scripts are read in the class and their strength and weakness are identified, strategies are discussed for improvising them.

Specialist screenwriting classes also introduce students to working producers and directors who discuss their perspective on screenwriting and what they look for in a screenplay.

Through Acting for Writers workshops, students at IMI witness how actors build their characters and performances based upon the information provided in a film script. These workshops are designed to deal with dialogue and script clarity, to develop and enhance the writer's subtlety.

This eventually helps writers to meditate how to re-write their initial drafts for more powerful dialogue, re-develop more powerful characters, and re-create more effective dramatic actions.

The second semester culminates with each student revising and finalizing their first feature film script and start thinking about creating take away writing portfolio to enter the industry.



Third Semester -
Portfolio preparation & Business of Screenwriting



In the final semester, with classes on more advanced form of writing like Adaptation or television drama/comedy, students start writing one or two major project independently. They either write a detail treatment for second feature film script adapted from a literary work or write a proposal for a television programme with one script for pilot episode and complete story-line for 52 episodes.

A successful writer has to be savvy as well as talented. Pitching is crucial and most tough job in the film and television business. Pitching is the ability to accurately and engagingly convey the basic outline of your story to another person verbally in a shortest possible time. Working with experienced professionals, students actually practice pitching in mock real-world session. Students get opportunity to pitch several ideas to the panel and fellow students, followed by a one-to-one tutorial to discuss the merits and challenges of your ideas.

The copyright, legal & finance classes explains the nuts & bolts of film industry conventions and business of screenwriting. It is crucially important for a writer to know how to protect his or her work. The topics also include the legality of buying a previously published work for adaptation for screen as well as the financial aspects of filmmaking- contract and knowledge of the relative cost of the film or television programme and what to expect as remuneration.





On completion



If any short film script of 15-20 minutes duration is selected for students' of Advanced Diploma in Film Direction graduation project, it is shot on 35mm film format with professional actors on location. Upon successful completion of the course, students are awarded Advanced Diploma in Screenwriting and a show-reel on DVD. Students take away substantial writing portfolio to enter the industry.


Students at IMI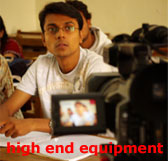 I knew a lot of things about filmmaking but they were all jumbled up in my mind. After the course at IMI, I've learnt the nuances of filmmaking. It gave me a clear picture of the procedure involved in making of a cinema. Seeing my show reel which I had made during our course, I got a job in country's biggest production house. Now I am GOD. I create characters and tell stories on small screen. All in all, a brilliant experience and enjoyed every moment of it. IMI truly rocks!!
Pratik Jain,
Associate Creative Head,
Television Production House

Watch Students Films