Programs
Email Us
Prospectus
Quick Links
Register Online

Cinematography is the process of capturing a vision on film. As both an art and a craft, it is a dynamic process that involves the aesthetic use of composition, light & shadow, and time & movement. A keen eye is what you need to succeed in film photography. This field is as much technical and creative as other film specializations which need formal training.

IMI offers 18 Months full time Advanced Diploma in Cinematography for high level of professional training with latest equipment used in the industry. IMI Cinematography Advanced Diploma program is designed to prepare you to work confidently as Director of Photography and to take up a challenging role of the second in command on the set of any major motion pictures or television program productions.





First Semester: Foundation



In the initial phase of Cinematography Advanced Diploma program, students are required to do all the jobs on the set in order to learn a number of other disciplines that help them to get introduced to a broader perspective of the entire filmmaking process.



Term One



The program equips students with enhanced understanding of everybody's need on the set while building up their craft skill in a particular discipline they intend to specialize and pursue as a career.

For Cinematography Diploma students, it starts with the study of Camera basics, using 35mm DSLR stills camera to demonstrate:



Camera structure: body, shutter, view finder
Lenses: focal length and depth of field
Use of Camera: choosing the lens, framing, focusing, setting the exposure
Exposure: what is it? Aperture, shutter speeds, film sensitivity,
How it is measured? Incident light, TTL meters.




The centre of the first term is the film exercises with Sony Full HD Cameras. In hands-on classes and production workshops, students get an in-depth overview of terminology, camera structure and learn about the type of light, contrast ratio, colour temperature.



Term Two



Along with demonstration and practical exercise in lighting techniques, students are also taught basic electrics, health & safety, clamps and stands, diffusion and reflectors.

Students learn how to make use of available and natural light on outdoor locations as well as traditional studio lighting for indoor situation for different genre of film on various camera types:



Sony Full HD PMW-300 Camera
Canon C-500 Camera


By the end of the first semester, apart from crewing in 10 student films in different capacity, each student finishes doing camera work for 4 short films projects independently.

Their work is constantly assessed critically by their teachers who are industry professionals. The student applies the experience gained through this process to the next project and the learning process continues.

Second Semester



On completion of the Foundation course in the first semester of Advanced Diploma program, students move into concentrated specialization in Cinematography. Now the film exercises become more technically sophisticated, more considered and more complex in their ambitions.



Advanced Cinematography



In the second semester, student's technical and craft skills of filming techniques are further honed in the core areas. Through lectures, workshops, extensive practice and complete productions, students master the aesthetic use of composition, complex tracking shots with trolley/crane/zimmy zip and multi camera television shoot. We combine these skills with the working ethos of a professional crew.



Students learn the importance of a synthesis of technical skills and creative sensibility for cinematographer. Each student in rotation taking on all the major roles of a cinematograph- Lighting, Camera Operator, Focus Puller, Clapper/ Loader and Gaffer, gains thorough proficiency to operate and maximize the functions of advanced video as well as film cameras including:



Broadcast level Sony Full HD PXW-FS7 Super 35mm Camera
4k Arri 35mm Alexa XT Studio
5K RED Epic


In parallel, students develop their camera maintenance skills, including the care and handling of 35mm Arri Alexa, hands-on training in camera operation, focus pulling, changing lenses, use of light meters and colour correction filters, fitting and adjusting video assist and other accessories.



Third Semester



In the third semester, students are trained to manage their lighting in a highly professional way. They are offered specialist classes on advance lighting techniques relevant to television, feature, documentary, advertising or music films.

Guest Director of Photography from industry gives lighting workshop, with actors, sometimes out on location. Students master the skills for professional lighting set ups on actual shooting floor with separate lighting plan for film & video shoot.

By the end of the third semester, students start creating visual poetry on screen with creative use of lights and shade, using a wide range of professional lighting equipment.



Our educational Advantage



The IMI Advanced Diploma in Cinematography curriculum also includes laboratory visits and three months of internship under an established cinematographer for real world skills and experience on actual movie set with professional cast & crew.

By the end of three semesters, students finish working on close to 30 short films, 12 of which are independent projects. All our student films are shot on actual locations. Students work with trained, professional actors for their final Advanced Diploma Film on 4K Arri 35mm Alexa Cameras.



On Completion



At the conclusion of the program, student's Advanced Diploma films are celebrated in the IMI screening at the National Film Archive of India auditorium- open to Press, crew, friends and family. Students retain the copy of their finished films on DVD to include in their show reel- the ultimate calling cards.

Upon successful completion of the program, each student receives an Advamced Diploma in accordance with industry expectations.
Students at IMI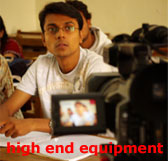 The cameras and lighting equipment provided to students here to make their exercise films are the same kit mostly used by professional units. IMI gave me the opportunity of being on lots of sets and observe our faculty from the industry shoot their film projects different ways & styles. Seeing their approach to filmmaking, really gave me a whole new level of understanding of the craft. IMI taught us that Cinematography is not about technicalities but going beyond it. It's about connecting with a Directors vision and helping them to take the story further than they can carry it on their own.
Gautami Vegiraju,
Freelance Cinematographer

Watch Students Films