Procedure to Apply

For Short Term Certificate

If you intend to join IMI Filmmaking Foundation Program, you do not need to submit any application form physically. Neither any documents required, nor any registration fees. Just

click here

and register online.
For Advanced Diploma/Diploma Programs
However, to be considered for admission to IMI Advanced Diploma or Diploma courses, you must submit the prescribed Application Form which can be obtained free of cost.
First Download Application Form free of cost and take a printout.


Please refer to IMI admission requirements and IMI Fees policy before filling the prescribed admission form.


To avoid disappointment as seats fill up quickly, you are advised to register online before mailing application form. This helps you to get enough time to prepare your creative profile and arrange other supporting attachments which you are required to submit along with your Application Form.


At the time of registration, make a payment of registration fees of Rs. 2,500 (non-refundable) in favour of Institute of Moving Images through IMI online payment gateway or go to your bank and place an order for National Electronic Fund Transfer (NEFT) as per IMI bank details given in How to Pay page.



While registering online, ENTER the NEFT/IMI Online Payment Gateway transaction details & choice of program you wish to enroll at IMI.





Upon registering online, you will receive a system generated auto Notification and a Registration Number which is mandatory to fill in the downloaded Application Form for Admission.





Then post the prescribed application form for admission along with the photocopy of NEFT/IMI Online Payment Gateway transaction slip as well as photocopy of Registration Notification along with other necessary attachments on the Institute's address written on the application form.





If the details of the NEFT / IMI Online Payment Gateway Transaction number entered at the time of online registration do not match the details of the photocopy of IMI Online Payment Gateway/NEFT Transaction received along with the application, your application will be considered invalid.




Notification for Confirmation of Admission
Applicable for Advanced Diploma & Diploma programs only
Upon receipt of your complete application form, within 2 working days, you will receive an email from us confirming receipt of your application and also separately notified for an interview with the head of studies. The interview will be conducted at IMI campus, Pune for all applicants residing within India and by telephone for international applicants.
Due to the demanding nature of our programs, admissions are offered selectively to applicants based on their submission materials and performance at interview. Successful applicants will be intimated by email/telephone and same will be listed on the IMI website within 24 hours of interview.
On receiving the formal Acceptance Notification & Enrollment Form from the IMI, you should sign the enrollment form and send it back with the non-refundable admission fees, within 7 working days to confirm your admission, failing which the seat will be allotted to next wait listed candidate. (You can pay the admission fees through IMI online payment gateway or go to your bank and place an order for National Electronic Fund Transfer (NEFT) as per IMI bank details given in
How to Pay page
).
Student applying from outside India are advised to apply at least 4 months prior to the start of their desired programs to ensure student visas are issued in time.
Applicable for Short-Term Certificate Programs only
Within 12 hours of receiving your online application and after scrutinizing it, if we find your expectation matches our course objectives, you will be notified by email for being considered for admission in IMI Short-term Certificate Program.
On receipt of Admission Notification from our office, you should pay your full fees in favour of Institute of Moving Images through IMI Online Payment Gateway or go to your bank and place an order for National Electronic Fund Transfer (NEFT) as per IMI bank details given in
How to Pay page
.
Within 24 hours of confirmation of your payment from the bank, you will receive a telephonic as well as email intimation from our office about confirmation of your admission for IMI short-term program.
Students at IMI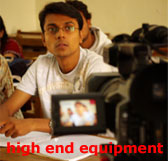 With a huge responsibility to carry the film legacy of my grand father- legendary Guru Dutt, I joined IMI. Amazing thing about this film school is that it encourages its students to make mistakes and gives them space and time to find their own style. IMI does not dampen student's enthusiasm with rules and technicalities of filmmaking; and yet put them through the rigour and effort needed to learn necessary skills. Today I'm confidently working in the direction team of Anurag Kashyap.
Karuna Dutt
Chief Asstt. Director
Phantom Films

Watch Students Films