Programs
Email Us
Prospectus
Quick Links
Register Online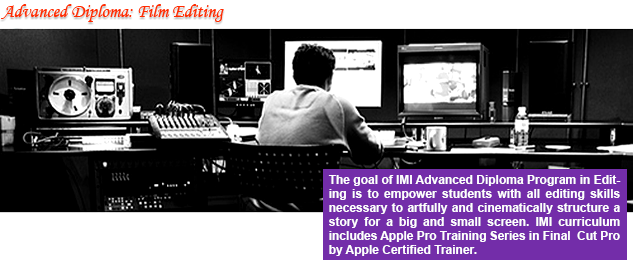 A Film Editor's job involves technical as well as intellectual skills. It starts with seeing the processed film with production personnel to analyze, evaluate, select the shots and arrange the film in a sequential order in rhythmical succession of scenes to convey a desired message to an audience.

IMI offers 18 Months full time Advanced Diploma in Film Editing for high level of professional training with latest equipment used in the industry. The goal of our Editing Diploma program is to empower students with all editing skills necessary to artfully and cinematically structure a story for a big and small screen.





First Semester: Foundation



In the first semester- the aesthetic, technical and craft skills of filmmaking are taught at appropriate professional level. It takes you through the complete film production process while teaching you the art and science of film editing.



Term One



Understanding of screenplay, various story telling techniques and the basics of dramaturgy is necessary in furthering the creative vision of an editor. During the Foundation, along with the cutting room procedure for film & sound editing, you will also be introduced to the film theory and its grammar, story construction, pattern of script development, shot breakdown, visual continuity, production designing and editing principles through classroom lectures, workshops, extensive practice and complete production of films.

The aim is to give you an understanding of the value of the craft and of the importance of communicating with the other departments and technicians involved during the production, in order to create the best material for the cutting room or edit suite, where you will learn to practice the basic editing principles & master the technical challenges of joining one shot with another, a series of shots into a sequence and a number of sequences into a visual narrative.





Term Two



In the second term, students have a solid grounding in various editing techniques and technologies of film & video editing as they progress from simple cuts to master the technical challenges of the non-linear editing process on Avid Xpress Pro.

Student's competence grows as they learn the basic engineering for post production, source the rushes, preparation of edit lists, edit non-sync footage, trim sequence, edit audio, add effects, titles and more while editing narrative fiction and documentaries.

By the end of the first semester, apart from crewing in 15 student films in different capacity, each student edits 6 short films independently

Their work is constantly assessed critically by their teachers who are industry professionals. The student applies the experience gained through this process to the next project, and the learning process continues beyond the Foundation program as they move into their concentrated specialization in Editing in next semester.



Second Semester: Editing Specialization



Now the editing exercises become more technically sophisticated, more considered and more complex in their ambitions.


Not only will you learn to edit film and video on some of the best gear in the industry, but you also experience the production process and asset management the same way industry professional do.



Term Three



The curriculum if IMI Advanced Diploma in Film Editing includes Apple Pro Training Series in Final Cut Pro by Apple Certified Trainer. At the beginning of the second semester, teachers guide student through the process of editing scenes on Final Cut Pro and sound designing on Pro Tools. Students are introduced to synchronized sound which provides new challenges to students in structuring picture and sound to create more impact on audience.

While giving students the opportunity to develop their creative talent through tightly scheduled editing exercises, placing them under same strict time constraints they will encounter in the professional world, students are challenged to develop their skills to meet the technical and creative demands of editing different complex scenes and sound designing, dubbing, Dialogue/Effects/Music track laying and mixing for:



Drama Sequence
Dialogue Sequence
Action Sequence
Comedy Sequence
Suspense Sequence
Montage Sequence
Documentary Reportage
Docudrama




Third Semester



In the last semester, the emphasis shifts from the technical to the artistic. Under the guidance of eminent, guest editors from the industry, students experiment with complex editing pattern and style. Through lectures, workshops, extensive practice and complete productions, students master the various mechanical means of controlling timing, the pace and rhythm to make a more cohesive and gripping:



Television Serial
Commercials
Music Video
Film




Our educational Advantage



IMI Advanced Diploma in Film Editing curriculum also includes visit to VFX studio in Mumbai to get introduced to Image manipulation, motion graphics, special effects, title sequences, animation and other important part of visual effects necessary for any film or video production. As an integral part of our curriculum, all editing Advanced Diploma students are also required to complete separate three months internship program under an established editor for real world skills and working experience in a professional post production and sound re-recording studio.

By the end of three semesters, students finish working on close to 30 short films, 12 of which are independently edited projects.
Students edit their final Advanced Diploma film shot on 4K Arri 35mm Alexa Cameras with trained, professional actors & they complete its entire post production on Final Cut Pro X and sound mixing in a professional studio.



On Completion



At the conclusion of the program, students' Advanced Diploma films are celebrated in the IMI screening at the National Film Archive of India auditorium- open to Press, crew, friends and family. Students retain the copy of their finished films on DVD to include in their show reel- the ultimate calling cards. Upon successful completion of the program, each student receives an Advanced Diploma in accordance with industry expectations.
Students at IMI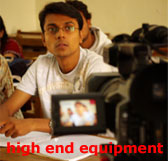 When I left my job as VFX artist, I had a rough idea as to what I wanted to do with the rest of my life. IMI was really sudden and I was really reluctant in the beginning to join; but as always I followed my gut and went ahead with enrolling here. Having completed the editing course, I am now really confident that the vision I had imagined about myself is definitely on the right track and realized throughout what we were taught at IMI - 'Good cinema is not made by chance, it is made by design'. IMI is the best thing happened after I left my job.
Kayash K. Khan,
Former VFX artist / Editor

Watch Students Films