Programs
Email Us
Prospectus
Quick Links
Register Online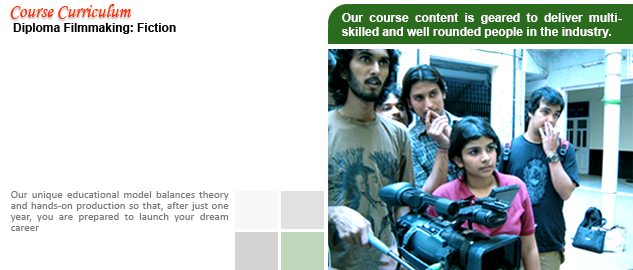 Classes





Film Theory



The class surveys the theory and grammar of cinema. A lecture series and critical workshop defining the elements that make narrative filmmaking effective and important. In it students will have a forum to stretch and exercise creative powers, practicing newfound filmmaking evaluative skills.



Overview of 35mm DSLR stills cameras



This is essentially the study of Camera basics- Using DSLR stills camera to demonstrate body shutter, view finder, film transport mechanism.
Lenses: focusing, focal length and aperture.
Film stock: size, reversal/negative, speed (ISO), daylight & Tungsten
Use of Camera: choosing the lens, framing, focusing, setting the exposure
Exposure: what is it?
Aperture, shutter speeds, film sensitivity, how it is measured? Incident light, TTL meters.



Screenwriting



The subject is designed to give in-depth understanding of how to create a balance between creative exploration and practical industry skills. It is study of the foundation of filmic storytelling – story structure, character, pattern of script development, format and genre. In the beginning of second term, students jump in to writing and rewriting a 15 minute short film script. Students discuss their writing in workshops - round table discussions with faculty and classmates. And gradually expand their story telling ability by studying feature scripts, TV script, shorts, sketch comedy and more. Through many productions during the semester, students learn to write to deadlines, to work alone and as part of a writing team and to write effectively.



Politics, Society & Cinema



The subject explores impact of politics on society historically. Film as the voice of a society and its ideas are examined in the popular films, advertising, ethics, censorship and globalization from psychological, political and sociological perspectives. The use of in-class discussion, lecture and screen studies of early days of Hollywood through global cinema in the silent and sound eras, and new cinema of the "third world".



Producing the Documentary



The producer of the documentary often has the private creative voice of the project. In this sense, students are the producers of all the film they make during the course. This class introduces students all the professional procedures of documentary and non-fiction filmmaking. Students have to practice basic production management skills including production scheduling, budgeting, obtaining location permission, organizing crew and production needs, copyrights and distribution.



Behavioral Science



The class introduces students to the psychology of self-evaluation, self-motivation, self-awareness and self focus. It provides proven methods in adapting to new environments and reducing anxiety. Students are also introduced to technique of time management, organizational skills, active listening and producing effective presentation.



Fiction Filmmaking Craft



Student will explore the history and evolution of fiction filmmaking technique as it applies to students own projects. Individual and group projects are introduced; various storytelling techniques and shooting strategies are devised for different genre of filmmaking. The film exercises are screened and criticized by the instructor and students in Fiction craft class.

Students participate in workshops that emulate a working film production environment, as they become director and actor utilizing their scripts and talents.



Camera and Lighting



The subject introduces students to the art and operation of various camera types including traditional film formats and advanced high definition by providing an in-depth overview of terminology, camera structure and camera operation. In hands-on classes and production workshops, students learn to operate and maximize the functions of Sony Full HD PXW-FS7 Super 35mm Camera, Canon C500 Camera as well as Sony Camcorders. Subjects covered include composition, focal length, shutter speeds, apertures, frame rates, filters and scene menus.

Lighting classes introduce students to type of light, contrast ratio, colour temperature. It gives demonstration and practical exercise in lighting techniques including basic electrics, health & safety, clamps and stands, diffusion and reflectors.

It further teaches students how to make use of available and natural light on outdoor locations as well as traditional studio lighting for indoor situation.



Sound Recording



The subject trains students in all the essential elements of sound recording and designing. They gain knowledge of live-sync sound, microphone technique & boom operation, role of sound effect, track laying, music and film mixing.



Editing



The subject examines non-linear online editing techniques, video formats, engineering, digital video effects and compositing using multiple platforms. Students study editing theory, editing software, basic engineering for post production, digital video effects, compositing, color correction and edit lists with Avid Xpress Pro. Sound designing technique, Music and effect track laying and mixing is also covered.

At the end of the course, teachers guide them through the process of editing their final projects on Final Cut Pro.



Music



Music is the communicating link between the screen and the audience. At IMI, we take music seriously and recognize its importance as a dramatic tool and an integral part of the physical experience of cinema. Our music consultant in his class give students a comprehensive view of the ways music can be used in film, a composure's requirements, instruction in music copyright law and assistance with finding right music for each project.



Screen Studies: Director Strategies



Each week a director or a group of films are selected and analyzed from the point of view of the complex pattern of directing strategies it reveals, set in the context of technical possibilities, the directors other work, and the possible & impossible options presented by film, cultural and social history. Across one year, there are more than 100 different classes.



Final Project



By the end of two semesters, students are exposed to various facets of fiction filmmaking including on traditional film or high definition video. Students develop and produce their own projects using advanced technology and their final Diploma film are celebrated in the IMI screening- open to Press, crew, friends and family.

Students retain the copy of digital master of their finished films to include in their demo reel and are free to submit their work to film festivals in India and abroad.

Upon successful completion of the program, each student receives a Diploma in accordance with industry expectation.


Students at IMI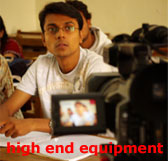 At IMI, I realized that filmmaking is great fun but a hell of a lot of hard work. Simple shots that we take for granted as part of the audience can take hours to design and shoot, but in the end it is worth the toil. My classmates at IMI made it fun to come back to school again where time knew no bound as we dwelt in great details of various aspects of filmmaking. The faculty was extremely encouraging yet critical and told us in no uncertain terms what our short comings were. The Filmmaking Diploma at IMI has truly been an extremely and enriching experience.
Dr. Harsh Vyas, M.D
Paediatrician / Filmmaker

Watch Students Films