Programs
Email Us
Prospectus
Quick Links
Register Online





Third Semester - Advance Screen Direction



A filmmaker's most precious assets are his instincts, imagination and intuition.

Guest Directors from the industry hold workshops for students that emulate a professional film production environment, where they give away the secrets that can keep an imagination alive and free a director's intuition, so everyone on the set can function at full creativity.

The semester provides an advanced screen directing techniques for both the small and the big screen. Students take charge as directors and utilize their scripts and actors to master visual storytelling strategies for:




Composition & performance led blocking
Camera placement & lighting for dramatic presentation
Using an environment as a dramatic factor
Song Picturization
Advertising Film
Diploma Film



This is in parallel and intersecting with the classes which cover film analyses & screen studies of Indian, European, Asian & Hollywood films.

Throughout the course, regularly film of great masters are screened in the class and analyzed from the point of view of the complex pattern of directing strategies, made in the context of historic, aesthetic & technical limitation or possibilities.

This way, students identify the techniques used by filmmakers in their approach to story telling as well as students get encouraged to develop a meaning based repertoire on which to base their own directing practice.

Music is the communicating link between the screen and the audience. At IMI, we take music seriously and recognize its importance as a dramatic tool and an integral part of the physical experience of cinema.

Our music consultant in his class gives Direction students a comprehensive view of the ways music can be used in film, a composure's requirements, instruction in music copyright law and assistance with finding right music for each project.

Apart from knowing the technicalities of film making, a basic understanding of disciplines like architecture, history, sociology and politics is crucial for good filmmaker.
Through regular Sunday morning sessions, students are encouraged to have direct interaction with our guest speakers from a variety of backgrounds i.e., sociologists, economists, political analysts, management experts, psychologists, human-rights activists, advertising professionals, painters, writers, poets, musicians & theatre personalities which provides students an environment for in-depth aesthetic development and overall intellectual growth.



Our educational Advantage



As an integral part of the curriculum, the students of Advanced Diploma in Film Direction are also required to complete a separate three months internship program under an established director. This endows them with real world skills, team work, business and industry etiquette and put them in front line of production to gain experience of professional ad film, television and feature film making. The internship helps students to forge relationships and build their network of contacts before stepping into the working world.

By the end of three semesters, students finish working on close to 30 short films, 12 of which are independent projects. All our student films are shot on actual locations. Each student gains a thorough proficiency with different camera types including Sony Full HD PXW-FS7 Super 35mm Camera, 4k Arri Alexa XT Studio Camera & 5k RED Epic and editing experience on non linear on AVID Media Composer as well as Final Cut Pro X.



Students cast and work with trained, professional actors for their final Advanced Diploma Film on 35mm 4k Arri Alexa Camera and post production on Final cut Pro X.



On completion



At the conclusion of the program, Graduation ceremony is hosted by the IMI and all films produced on the Advanced Diploma course are screened at National Film Archive of India auditorium for press, students, crew, cast, friends and family. Students retain the DVD copy of a body of work they produced at the Institute. It acts as their show reel- the ultimate calling cards. Student films are also sent to several competitions and film festivals in India and abroad.

Upon successful completion of the program, each student receives an Advanced Diploma in accordance with industry expectations and we continue to offer you careers and business advice long after graduation.



Students at IMI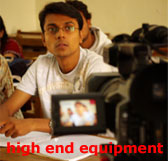 Frankly speaking I had not expected so much. Till one and half month back, I used to wonder how a person can learn movie making in such a short time. But I myself have made three short films at the Institute of Moving Images. It was a great learning experience. The course content is beautifully designed. I have got confidence to experiment further with my camera. I am working on my fourth film now.
Mukesh Sharma,
Design Engineer

Watch Students Films